Nucopia Wellness Kit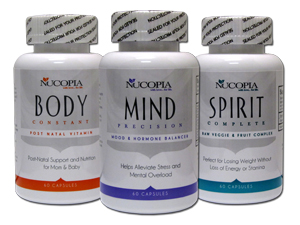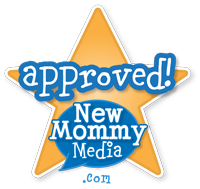 Nucopia's goal is to provide new mom's with high quality and innovative nutrition solutions from the Nucopia Post Natal Wellness System during their first year of having their new child. New mom's need to focus on their baby, and we will focus on the new mom by providing Mind, Body, and Spirit completement formulas. Since the task of raising a child never stops, neither do we – We will always strive for 100% satisfaction in all aspects of our company, and will promise to keep our products 100% organic and made in the USA. 
Retail Price: $49.95
The Reviews
The first thing I do when I'm considering a new prenatal, or any new supplement, is look to see what is organic and if there is any artificial coloring. I was actually really excited to see that Nucopia Postpartum Wellness Kit contained all organic nutrients derived mostly from plants and no artificial anything. The kit contains 3 different supplements, Mind, Body and Spirit. These 3 are designed to balance us, naturally. Whenever I see turmeric in a supplement, I'm thrilled, because I know the medicinal and healing qualities of this special herb. I took this product for 1 month and noticed a difference both physically and emotionally. Hormonally, I felt more balanced, less mood swings, and generally more content. I'm not sure if this is related, but after 4 months of not losing any of the pregnancy weight, after I started taking Nucopia I began to lose about a pound per week. Also, I felt like I had a lot more energy throughout the day. I would definitely recommend this product. In fact, I will continue to take this wellness kit for the rest of our breastfeeding relationship. Way to go Nucopia Postpartum Wellness Kit for making a great product!
I received the Nucopia wellness kit just in time to help me recover from a bout of mastitis. I have always wanted to try a more high quality multi vitamin, as I usually by a generic brand for $10 a month. I love this product! For a number of reasons. The formulas are specifically made for postpartum moms. So no allergens, it has high (but safe) amounts of the vitamins and minerals new moms need, and breastfeeding compatible . There have three different supplements complementing each other and each focusing on specific aspect of postpartum health (Mind, Body & Spirit). The three supplements each looked and smelled different. For me, this made them more real – three bottles with three identical pills would have made me skeptical. Last but not least: I noticed an improvement in energy in the mornings, after I took the supplements AND I noticed an improvement in overall health. I got hit with mastitis again, but I managed to ward it off for longer and I also recovered quicker, feeling less sick.
I was excited to start these supplements. I was pleased that each supplement had their own look, smell, and instructions. Even though I had eaten before I took the vitamins, I still felt very sick to my stomach after taking them. This happened to me each time. I did feel slightly re energized and my moods were definitely more stable. I especially love how breastfeeding friendly this product is. There aren't many products that are healthy for mother and baby. I would especially recommend this product to freshly postpartum mothers.