Bamboo Button Baby Bandana Bibs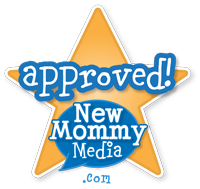 These high quality drool bibs from Bamboo Button are designed to keep baby dry and happy while being extra fashionable. These bibs have a cotton layer on top to absorb the drool and a polyester fleece backing to keep drool from soaking through to those cute outfits you put on your baby. We choose the most trendy patterns and styles for you to put on your baby so these bibs are as much an accessory as they are functional. These bibs have adjustable snap closures to make them easy to put on your baby and keep on your baby.
Retail Price: $22.00
Written Reviews
When we received the bibs I was immediately excited to try them out. With twin boys who have refused to wear other bibs I hoped my boys would leave these on. The bibs are very cute and soft. The cushy softness of the fabric was very surprising. Most bibs that we have tried seem like scrap material or uncomfy plastic. The bib fabric was thick & worked great for sopping up liquid & food spills. The prints were colorful & fashionable. I was slightly hesitant to let my boys eat in them because I did not want to get them dirty. They held up well, the first meal they tried was spaghetti. Due to their overall length of the bib there was minimal spillage onto their lap, which was a good surprise. I loved the fact that the bibs have two places to snap the bib, so they will last a while as baby grows. The ksnaps are strong enough where my 15 month old boys could not rip off the bibs, which has been an issue with Velcro bibs. For a perfect fit, a third snap would work great in between the 2 existing snaps. At the smallest setting it was just a little too snug for my boys and too big at the biggest, resulting in sauce dripping down their shirts. They were easy to use, appear to be durable as they've already been through 2 washes and look as good from day one, in terms of stitching. Some minor staining, as I didn't pretreat 2 of the bibs. I would recommend these bibs, they're cute, soft, absorbent, secure well and have proven to be difficult for my 15 month old twin boys to take off.
These baby bandana bids are truely a life saver if you have a teething a baby that is always drooling. If you have a baby like mine we don't always use bibs just for eating. We use them to keep their shirts dry from the amount of droll baby produce while teething. These bibs are so cute and and go with any outfit. The snaps are really easy to use and can fit all babies with two different sizes. They wash and hold up very well. They are made out of super of fabrics that are very nice for babies. I would definitely buy these for a gift and for sure my own babies.


Bamboo Button bibs are so great! They are stylish, yet functional. I get so many compliments on them! My son looks so cute in them! They are the most absorbent bibs I have come across, and after 3 boys that says a lot! They are easy to put on, and stay put! My son can yank any big off, but these! They are my go to bib for sure!