Magnetic Me Baby Clothing: The Easiest Way To Dress Your Baby
In this article:
The benefits of magnetic clothing.
Features of Magnetic Me's baby clothing.
Sustainable and eco-friendly fabric options with Magnetic Me.
Answers to common questions parents have about magnetic clothing.
Sponsored Post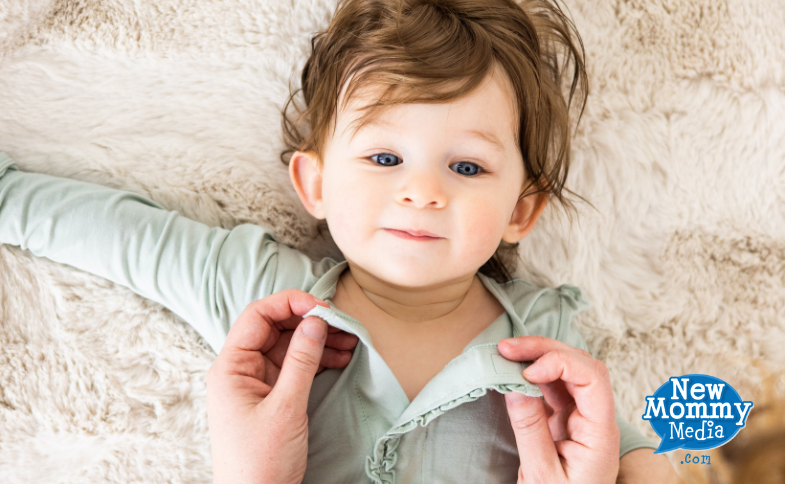 As a mom, we're usually in search of easier and more efficient ways of getting our day-to-day mom duties done. Dressing your baby may just be one of those things that you've been trying to get on top of. If we're honest, it may even be easier to dress an octopus than a baby! Well, because of this, we went on a fact-finding mission to see what's out there to help moms like you on this journey to finding the easiest way to dress your baby. That's how we found magnetic baby clothing by Magnetic Me.
With Magnetic Me, baby clothing has evolved to reduce some of the stresses of dressing your baby by introducing magnetic fasteners instead of buttons, zips and snaps. The magnetic fasteners on your baby's clothes practically close by themselves. How simple is that? So instead of fiddling with a bunch of snaps while doing a late night change and possibly waking up your baby, magnetic baby clothing can open and close without a fuss.
Features Of Magnetic Me Baby Clothing
Safety-Tested
Magnetic Me takes safety seriously, especially the safety of our little ones. This is why their clothing has been independently tested by a consumer products safety testing bureau. The magnetic fasteners that are used in their clothing are securely stitched into the clothing and hidden between multiple layers of fabric. It'd be very difficult for the tiny fingers of our little ones to even reach for these magnets.
Sustainable
From using eco-friendly fabrics like modal and organic cotton to recyclable packaging, Magnetic Me is serious about sustainability. They also recently launched Re-loved, a sustainable marketplace where pre-loved Magnetic Me items are bought and sold, helping to keep clothing out of our landfills.
Eco-friendly Fabric
Magnetic Me uses two types of fabric:
TENCEL Modal
This is an eco-friendly, 100% natural fabric made from fibers of sustainably-grown beechwood trees. TENCEL Modal is created with an efficient, closed-loop process, which reduces the use of resources and energy. It is a highly durable fabric that is pill and fade resistant–great for passing on from baby to baby!
100% Organic (GOTS) Certified Cotton
This is eco-friendly, extra soft, and gentle on baby's sensitive skin. All GOTS certified cotton must meet social and environmental criteria. For example, ensuring that occupational health and safety standards are met. It's good for your baby and it's good for the planet.
Variety of Options
Magnetic Me caters for your baby and even beyond. They have a modal magnetic PJ line for moms that comes with jogger pants. You can get matching outfits for you and your baby. They also have festive outfits for the whole family. There are a large variety of patterns and colors to choose from, so that your entire family can find a Magnetic Me that suits each of them.
Magnetic Me is Doing Good
Magnetic Me is passionate about giving back. This year they launched their Heart to Heart program, an initiative that donates a year's supply of magnetic PJs to cardiac ICUs across the country.
In 2022 Magnetic Me sponsored the Runway of Dreams fashion show in New York City, helping to make adaptive apparel more readily available to people with disabilities. Magnetic Me has also sponsored the upcoming documentary, Dani's Twins, which chronicles one of the few quadriplegics to ever give birth to twins.

Magnetic Me FAQs
Does exposure to magnets or magnetic fields pose potential harm to my body?
According to the WHO, exposure to static magnets hasn't proven to be harmful.
Can my baby pull out the magnets?
The magnetic fasteners and hidden deep into their baby clothing using a patented technology called SewSafe construction. So the magnets are virtually inaccessible and would take serious tampering to remove.
Will Magnetic Me clothing really save me time?
The magnetic fasteners practically close themselves once you line them up, so you'll get time to focus on the bigger stuff.
Do Magnetic Me products contain lead?
No.
Can Magnetic Me products interfere with pacemakers?
Yes, Magnetic Me products contain magnets that may interfere with pacemakers and other magnetic-sensitive devices. So keep Magnetic Me clothing away from these electronics.
Are flame retardants used on Magnetic Me clothing?
No. The Consumer Products Safety Commission (CPSC) mandates that children's sleepwear from 9M and up be either tight-fitting or treated with flame retardants. Magnetic Me follows the tight fitting mandate (so as not to use chemicals on our fabrics). This means that the fit on our larger sizes will be more snug than the fit on our smaller sizes.
Are magnets washer and dryer safe? Are there any special care instructions?
Yes, they are washer and dryer safe. Simply close the fasteners before washing and drying. In the dryer, dry with a full load on low for 30 minutes maximum. If clothing is still damp, hang them on the line. Use only non-chlorine bleach where necessary. Keep Magnetic Me clothing away from industrial and commercial dryers.
Final Thoughts
If you're interested in learning more about Magnetic Me products or if you want to read up on more FAQs, you can find them online. Their products are also available in-store, at boutiques across the country, and at select department stores like Sak's, Bloomingdale's, and Nordstrom. You may also be interested in their bundle-saving sister brand, Simply Magnetic Me, which allows you to buy your baby essentials in bundles. The more you bundle, the more you save!
Magnetic baby clothing has truly revolutionized how we dress our babies. It has also helped so many moms overcome the wrestling match with their little humans. It has even changed how we shop for our babies, which is more for functionality and ease and not so much for cuteness. Now, this is one less struggle for us all.