20 Thanksgiving Activities for the Whole Family
The holidays are a wonderful time to come together as a family and make happy memories. Thanksgiving is no exception! It is the perfect time for family and friends to come together and celebrate. It's also a time for fun and games!
In this article, we have compiled a list of 20 fun and interesting Thanksgiving activities for the whole family. Categorized into games, crafts, cooking, and family time, here are some ideas for you to try this year: 
Games
Get the whole family involved in some classic Thanksgiving games. These are great for all ages and will bring plenty of laughs. Some ideas:
Thanksgiving Bingo – Make bingo cards with Thanksgiving words like turkey, pilgrim, pumpkin, etc. Call out the words and see who gets bingo first!
Turkey bowling – Use empty plastic bottles as bowling pins and a frozen turkey or chicken as the ball. Roll along the floor and try to knock down the "pins".
Bean bag toss – Make a cornucopia target with a hole in the center. Toss bean bags and try to get them in the hole.
The classics – You can't go wrong with classic games like Charades, Monopoly, or Scrabble.
Outdoor games – If weather permits, take the festivities outdoors. Organize a friendly game of touch football, have a scavenger hunt, or simply enjoy a nature walk together. It's a refreshing way to spend quality time and burn off some of those Thanksgiving calories.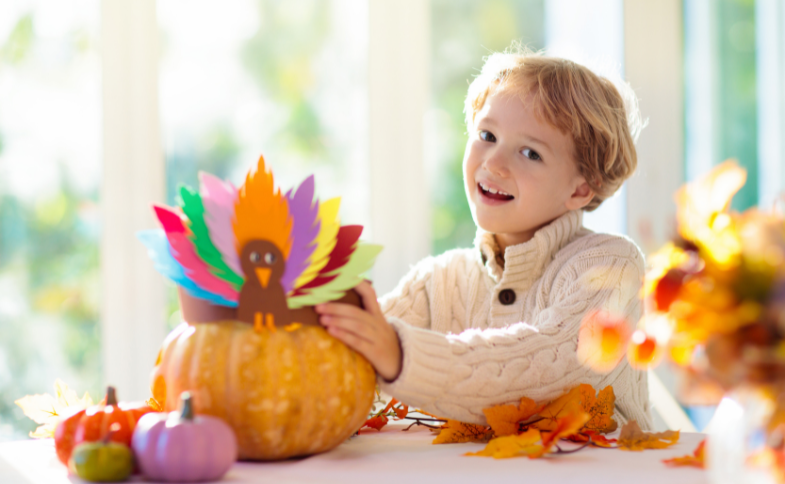 Crafts
Get crafty with some DIY projects that will spice up your Thanksgiving décor. Projects like:
Handprint turkeys – Trace hands on colored paper and assemble into a turkey shape. Let the kids decorate with feathers, googly eyes, etc.
Place cards – Fold colored paper into a tent shape. Let kids write names and draw designs on them for personalized place settings.
Thankful wreaths – Help kids write what they're thankful for on leaf cutouts. Take turns gluing leaves onto a hand-traced wreath.
Crafting cornucopias – Gather some craft supplies and create your own cornucopias. This classic symbol of abundance can be personalized with drawings, messages, or even small treats.
Cooking
Cooking together builds memories and is a fun learning experience for kids. Get them involved with:
Pie crust – Let them roll out the dough and shape it into a crust. Supervise filling and baking.
Mashed potatoes – Allow kids to peel and mash the potatoes. Just watch the cream and butter!
Stuffing – Older kids can help sauté veggies and mix ingredients for the stuffing.
Family recipe swap – Encourage family members to bring their favorite Thanksgiving recipes, along with the stories behind them. Share the joy of cooking and create a collective family cookbook. It's a great way to preserve traditions and discover new dishes to add to your holiday repertoire.
One of the best ways to get the family involved in Thanksgiving preparations is to cook together. You can make a simple meal like turkey and stuffing, or go all out and make a traditional Thanksgiving feast. Either way, it's sure to be a fun and memorable experience for everyone.
Family Time
Beyond the activities, just spending quality time together is what it's all about. Enjoy:
Gratitude circle – Take turns sharing things you're grateful for this year. Thanksgiving is a time to reflect on all the things we have to be thankful for.
Gratitude jar – This is quite similar to the gratitude circle above. Create a gratitude jar and encourage everyone to jot down what they're thankful for throughout the month of November. During the Thanksgiving meal, take turns reading these notes aloud. It's a heartwarming way to express appreciation and reflect on the positive aspects of life.
Turkey Trot – Before indulging in the Thanksgiving feast, get the family moving with a Turkey Trot. Whether it's a local organized run or a fun jog around the neighborhood, this pre-feast exercise will make everyone feel more deserving of that second helping of mashed potatoes!
Family walk – After all that food, it's important to get some exercise. Take a walk around the neighborhood or go for a hike in the woods. It's a great way to burn off some calories and enjoy the fresh air.
Game night – Break out the cards and board games and let the fun continue!
Watching a movie – If you're feeling lazy, curl up on the couch and watch a movie. There are plenty of great Thanksgiving movies to choose from! From heartwarming classics to animated tales, there's a film for every age group. Don't forget the popcorn and blankets for the ultimate cinematic experience!
Volunteer together – Give back to the community by volunteering as a family. Whether it's serving meals at a local shelter or participating in a charity event, spreading kindness is a meaningful way to express gratitude and teach valuable lessons to the kids.
Final Thoughts
These are just a few ideas for Thanksgiving activities that the whole family can enjoy. The holidays can get busy, but setting aside time for the simple joy of being together as a family is always a treat. This applies to all holidays, so be sure to also check out our guide to Christmas activities after this.
Implementing some of these ideas will ensure you have a very happy Thanksgiving! No matter what you do, make sure to have fun and create some lasting memories! What activities does your family enjoy?